Since Tuesday, the first of March, a group of 9 women have been participating in the training for socio-professional support. A mixture of face-to-face instruction alternating with educational elements and self-paced exercises on a virtual computer.
The beginning of the training was full of enthusiasm and passion, the entire team was involved in the implementation and success of this training. The participants also had a great impact on this achievement. The first model of the training was sharing different non-formal activities in pairs and groups that allowed them to discover other participants and develop a group spirit to get to know each other. In addition, the main objective is to promote development opportunities in terms of intercultural communication and linguistic understanding.
The next step of socio-professional support is IT: information technology with a digital advisor of the SESAME space of Bordeaux Métropole. Thanks to the donation of ANS Action Numérique Solidaire in Paris, the women will be able to work on their own computers.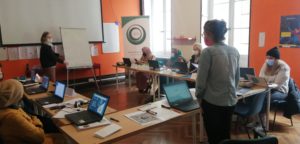 BLIGS