A history of Odyssée

Odyssée introduces its history since its creation in 2015 until now.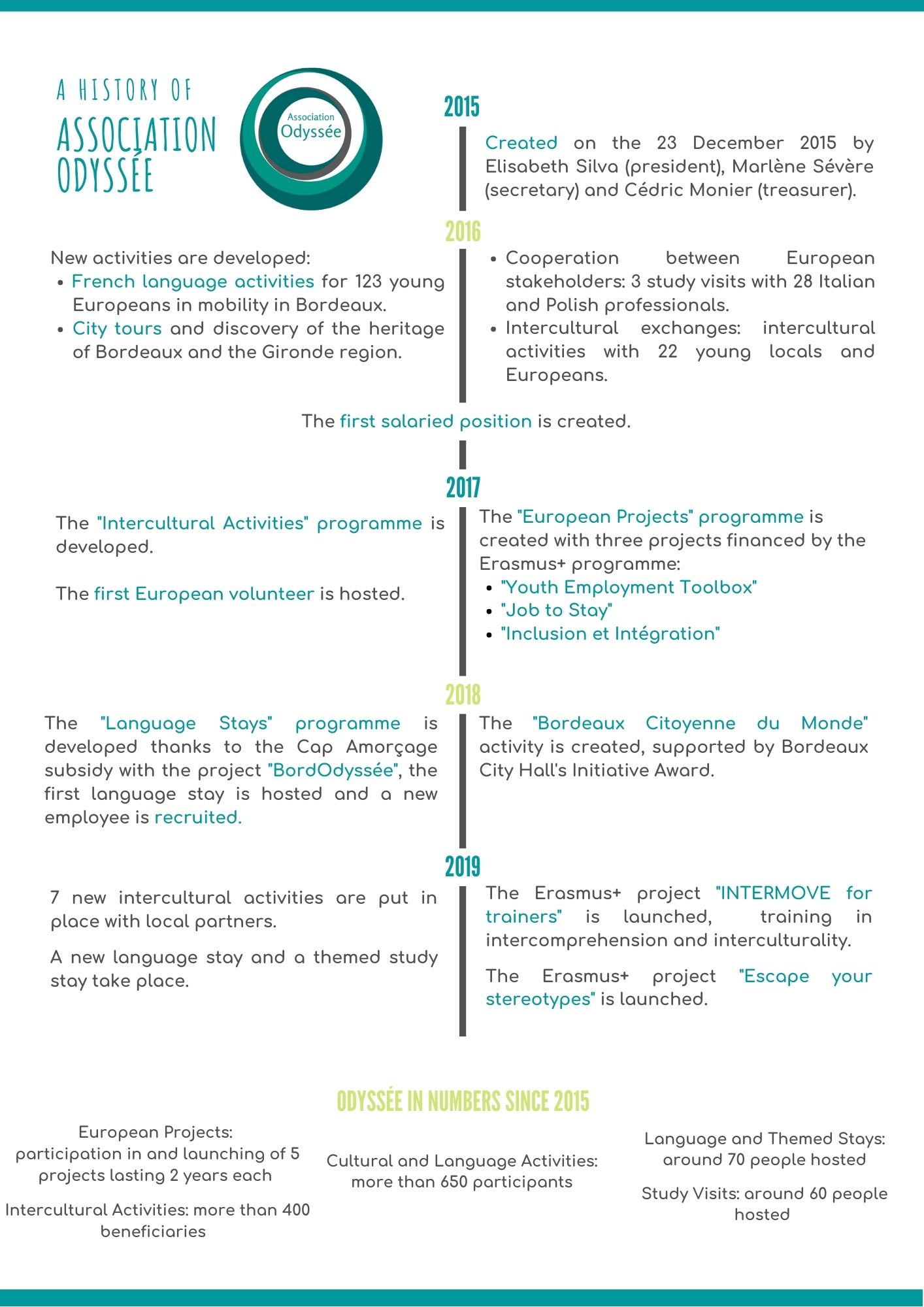 The history in details

Odyssée in 2015

Created on the 23 December 2015 by Elisabeth Silva, president, Marlène Sévère, secretary, and Cédric Monier, treasurer, and as specified in its statutes, Assosiation Odyssée aims at:
Contributing to the commitment and participation of all, strengthening European citizenship and the emergence of "worldwide citizens", by being a stakeholder for lifelong education and training and for intercultural exchanges and by promoting cooperation between local actors in the voluntary sector and the private sector;

Providing "reading keys" for a better understanding of globalization, in order to understand the diversity and complexity of today's world and develop intercultural learning by promoting and implementing European and international exchanges and advising and accompanying projects in this dynamic;

Facilitating living and working together, by experiencing cultural diversity and practising foreign languages including French as a foreign language;

Valuing the local territories by providing activities to discover the culture and heritage.
The declaration was approved the 6 January 2016 in the Prefecture of Gironde and was published in the Official Journal on the 30 January 2016.
Odyssée in 2016
In 2016, Odyssée was focused on developing various activities which allowed them to respond to their missions. The following directions were established:
Promote living and working together by proposing French language activities for young Europeans participating in a mobility programme in Bordeaux (123 young people participated in the activities, totalling 223 hours), and by organising language study trips (a trip was organised for two German participants);

Showcase Bordeaux and the Gironde region's rich cultural heritage through accompanied visits for young people and adults (38 people);

Support intercultural exchanges and cooperation between European stakeholders by organising and setting up study visits for Italian and Polish professionals in Bordeaux (28 participants), by hosting intercultural activities with young locals and foreigners (22 people), and by developing local and European partnerships.
These activities were put into place thanks to the volunteer involvement of Odyssée's members who wished to give an important and necessary boost to the association's permanence.
A single integration contract in the non-market sector (CUI-CAE) was created, resulting in the training of a French as a Foreign Language instructor by Marilou Breda for two months and their later employment.
Odyssée in 2017
In 2017, the "intercultural activities" section was launched at a local level and partnerships were established. Ten intercultural activities were carried out in partnership with local partner structures, bringing together more than 90 young people from the Nouvelle Aquitaine region and 250 young Europeans and internationals to exchange views. All the activities carried out were from then on included in Odyssée's intercultural activity catalogue.
Engagement in European partnerships allowed the association to finance through the Erasmus+ programme a project for the mobility of youth workers ("Youth Employment Toolbox") as well as to be a partner in different projects which were also funded by the Erasmus+ programme ("Job to Stay" about the socio-professional support of female refugees and "Inclusion and Integration" about exchanging experiences among experts in pre-school education, youth and social work).
The cultural and language activities (34 activities gathering together over 230 people) were continued. The decrease in language activities (57 young people, 98 hours) lead us to propose a new activity: the section "language study stays" was created, as part of an application for a seed grant for the initial financing of the project (Cap Amorçage, Aquitaine Active).
The Odyssée team grew by welcoming a Serbian volunteer thanks to a local partnership, as well as European interns in Erasmus+ mobility. Odyssée's members (employee, unpaid helpers and volunteer) benefited from local training courses (on interculturalism with the association Elan Interculturel, internally on language animation through observation) and a training course on intercomprehension between romance languages carried out in the context of an Erasmus+ project (Elisabeth Silva and Marilou Breda).
Odyssée in 2018
In 2018, the language activities were continued (212 hours of training with 12 Swiss students), resulting in the employment of two French as a Foreign Language instructors and the internal training of volunteers. The "language study stays" section was particularly developed after the employment of Andréa Cozon, made possible by the funding of the Cap Amorçage programme (Bord'Odyssée project financed by the Nouvelle-Aquitaine region with the European Social Fund). This allowed us to carry out the first language study stay in December 2018 with 20 Italian students accompanied by two teachers by rallying host families and local partners for the intercultural activities.
The cultural activities were continued with 175 participants and six intercultural activities were carried out, allowing us to expand and update our catalogue while strengthening our local partnerships. The activity "Bordeaux Citoyenne du Monde", a city visit which highlights the cultural and linguistic diversity in Bordeaux, was tried out and awarded the Prize for Initiative by Bordeaux's City Hall.
The European projects that were underway ("Job to Stay" and "Inclusion and Integration") were continued with the support of a local network of partners with structures engaged in aiding asylum seekers, refugees or beneficiaries of international protection, language instruction or adult training centres, or even associations promoting social links. Odyssée presented a project to create a pedagogical escape game about intercultural learning and the battle against prejudice, in partnership with an English university and a Lithuanian social innovation centre, in order to obtain financing from the Erasmus+ programme.
Odyssée in 2019 and perspectives for 2020

In 2019, a language themed study visit took place with 16 young Italians and three supervisors. A themed study visit was later organised with a class of 15 Italian high school students who came to learn about violence in the world of sport through professional from Nouvelle-Aquitaine. Today, the association is on hold with this section of their activity but remains able to respond to the requests of potential partners.
The intercultural activities (seven activities) were continued, mainly with the involvement of an Italian volunteer and an intern who were able to take part in the Odyssée thinking process about the participation of young people and the partners' approach. The activity programme for 2020 was therefore created and was included in the programme of certain key annual events such as the week of modern languages, le Joli Mois de l'Europe (the Pretty Month of Europe), world language days, Francophonie Day, the European Day of Languages, Erasmus Days, etc.
The project "Job to Stay" ended in 2019 after the establishment of a reinforced support programme for women who are beneficiares of an international protection, which constituted a French course, professional workshops, a practical exercise in a professional environment, informal activities and individual monitoring. The project "Inclusion and Integration" was also finished after two years of exchanges of practices and hosting the European partners in Bordeaux.
Odyssée was a partner in the "INTERMOVE for trainers" project, financed by the Erasmus+ programme, aimed at providing training for trainers on intercomprehension and interculturalism (the project focuses on four romance languages: French, Italian, Spanish, Portugal as well as English). Thanks to the solid experience and expertise of the European partners who conceived the "INTERMOVE" training course and tools, new Odyssée members were trained in these approaches, activities and tools. From that moment, various Odyssée members were trained internally and the activities were proposed to groups of young people. At the start of 2020, the project continued with the preparation of the first training session for mobility operators from Nouvelle-Aquitaine which will take place the 27 March and the 16 April, as part of the "INTERMOVE for trainers project. 
The project "Escape your stereotypes", aimed at creating a pedagogical escape game, started in 2019 via a meeting between partners and the creation of a method with a transferable conception for this type of game with an educational aim. In 2020 the project is continued through activities and the development of an escape game.